Creative and secure packaging
SELF-LOCKING. SPILL-PROOF. CUSTOM BRANDED.
lily of the valley packaging
With its delicate curves, and bell-shaped structure, the Lily of the Valley packaging is a delightful reminder of the sweetness of spring. Whether cradling sparkling jewels, a tailored shirt, or a sprinkled donut, this design elevates to an equal level of refinement.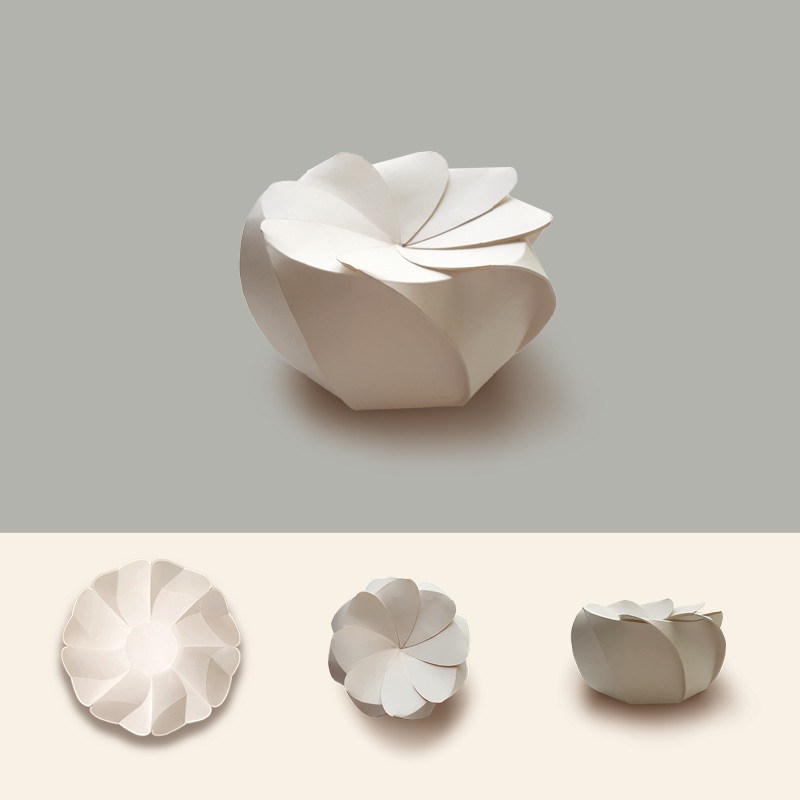 poppy packaging
Its captivating, wide spiral petals and its low stature make the Poppy packaging structure the perfect design for all sorts of short, wide, circular goods from pies and pancakes to plates and purses.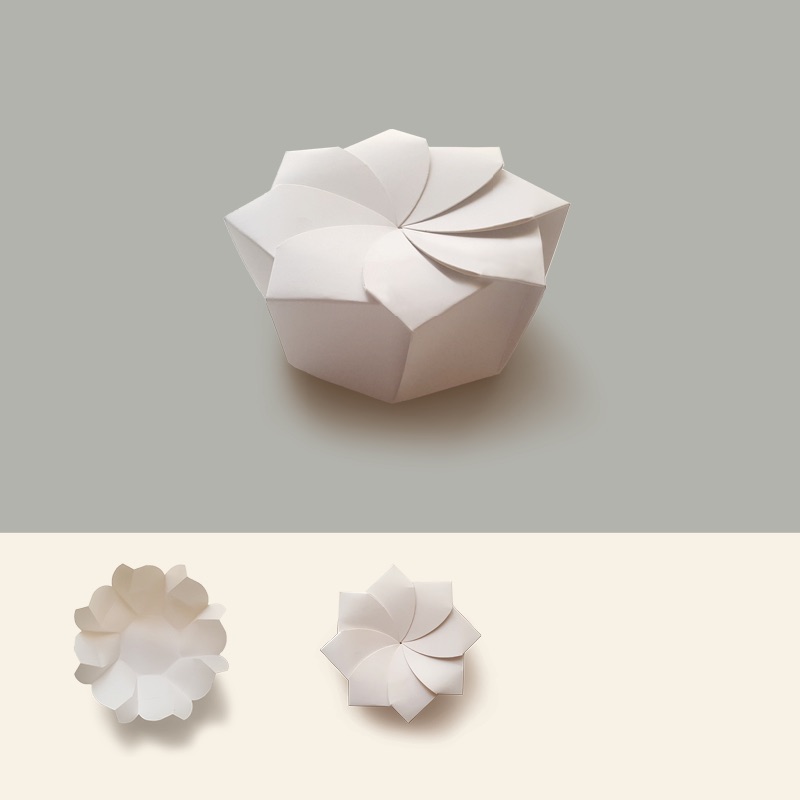 magnolia packaging
Sharp and structured, strong yet gentle, the Magnolia packaging exudes stability and grace with petals gliding elegantly into full bloom to reveal its hidden treasures. Being the first packaging structure we designed, it has the versatility to transform into a range of uses—be it a takeaway box for bibimbap, a pastry box for carefully crafted cakes, or a gift box for wedding trinkets.
Aphinitea /ə'finitē/ noun / a spontaneous or natural liking or sympathy for clever, beautiful objects / Learn about our story.
From our experience with Guactruck, we realised the need for this type of packaging in the market, especially in Europe where food deliveries are popping up everywhere. Hence in 2013, Aphinitea was born, catering mainly to the European market. We first sold our first structure, the Magnolia, to Jules et Shim in Paris, France.
A full sensory experience starts with how we perceive the cover. Our goal is to reinvent the ubiquitous square box with geometric, single-sheet, origami-inspired packaging structures without sacrificing functionality. Aphinitea's distinctive packaging emphasizes the idea that good things come in beautiful packages, giving the extra oomph that creates a truly memorable experience. Let's face it, people do judge a book by it's cover—especially in this age of mobile photography. For small businesses, this translates to invaluable marketing capital. Moving individuals to share a glimpse of what inspires them is what Aphinitea is about.
Following the aesthetic and mathematical principles of origami, our team develops simple yet intricate packaging architecture that is recognizable, fosters spontaneous conversations, and is easy to use. We specialise in single-sheet origami boxes folded in a clever way that does not require adhesive. This takes out the odour adhesive emits, preserving the quality of its content; while the collapsible, single-sheet structure saves storage space. The self-locking mechanism makes our packaging secure for delivery transports. To further enhance the boxes' visual presence, we provide custom printed branding using offset printing presses, allowing for the finest print quality and finishes.